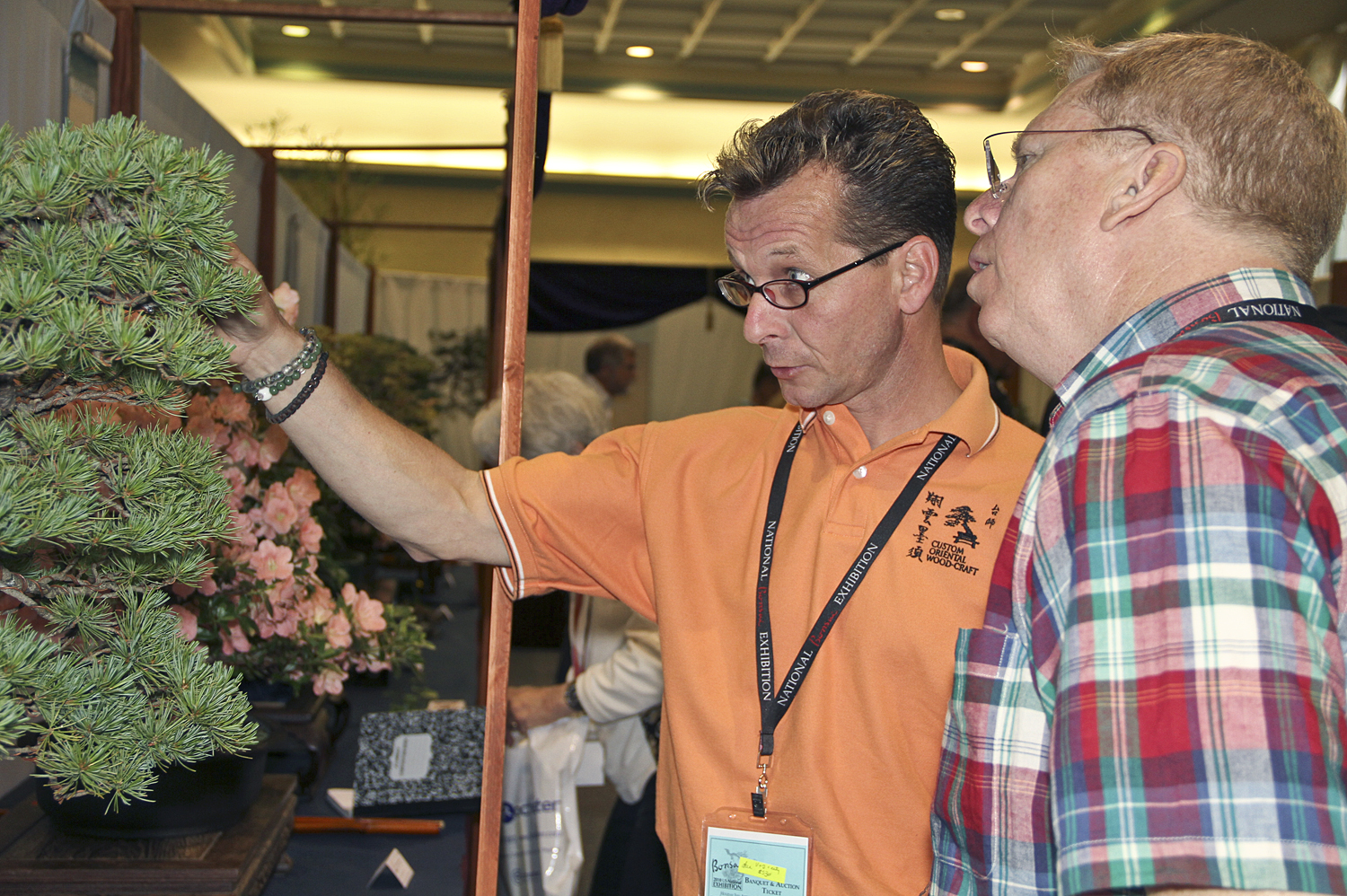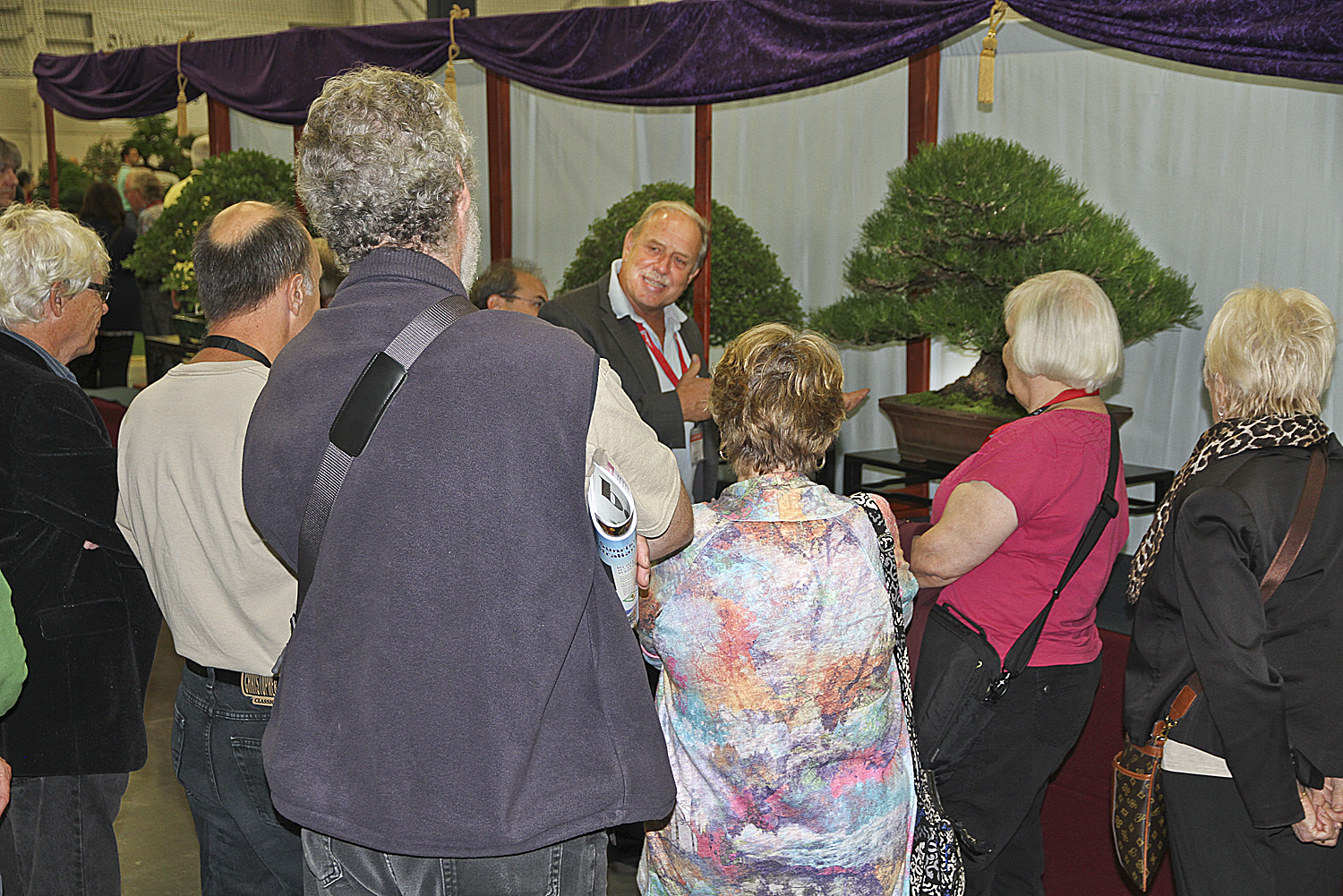 Critiques
Critiques are offered two times daily by nationally and internationally renowned bonsai artists and suiseki authorities. These small and casual tours are a rare opportunity to view and study some of the best bonsai and suiseki in the United States, through the eyes of authorities.
The critiques are free with the admission fee. Those interested in touring with our guest artists should meet at the registration table. No pre-registration necessary.
Download the event schedule for critique details.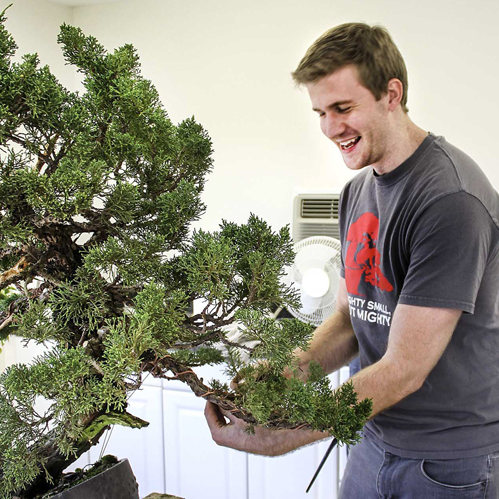 Bjorn Bjorholm, Japan/USA
Bjorn Bjorholm was first introduced to bonsai at the age of 13 and has since founded the Knoxville Bonsai Society. In 2001, Bjorvala Bonsai Studio was created in order to provide pre-bonsai material and beginner level classes to individuals wanting to get started in the art. Today, however, Bjorvala Bonsai Studio functions as a promoter of classical Japanese bonsai design through a wide array of classes and offered plant material. In order to further develop his skills and understanding of the art, he left for Japan in 2008 to become a full-time bonsai apprentice at Fujikawa Kouka-en in Osaka.  Under the guidance of Keiichi Fujikawa, he strived to broaden his knowledge and understanding of bonsai. In 2015, he became a certified bonsai professional by the Nippon Bonsai Association, having completed his formal apprenticeship.
Each year, Mr. Bjorholm travels back to the United States and other areas around the world to teach bonsai to societies, organizations, and individuals. He also currently films, edits, and produces the online YouTube video series The Bonsai Art of Japan, which currently has over half a million views.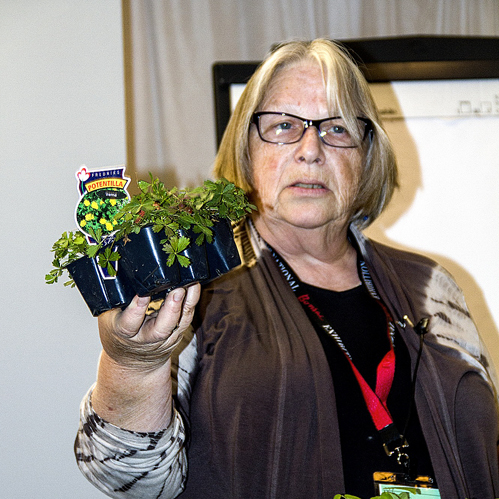 Kora Dalager, California
Mrs. Dalager has been pursuing the bonsai obsession for 30 years. The creation, care and display of companion plants have become her special interest. Her frequent trips to Japan as tour leader of Bonsai Travel has given her the opportunity to view many bonsai shows in Japan. She has been able to share what she has learned through many workshops and demonstrations about the history of these delightful creations, and how they are used to complement bonsai in an exhibit. She has focused on companion plants because she felt nobody was really teaching this subject. She was often disillusioned at many bonsai shows, and felt that many companion pieces demeaned the tree, rather than elevate the display, nor completed the picture. The three most glaring defects she feels have been: Too tall, too small, and too big.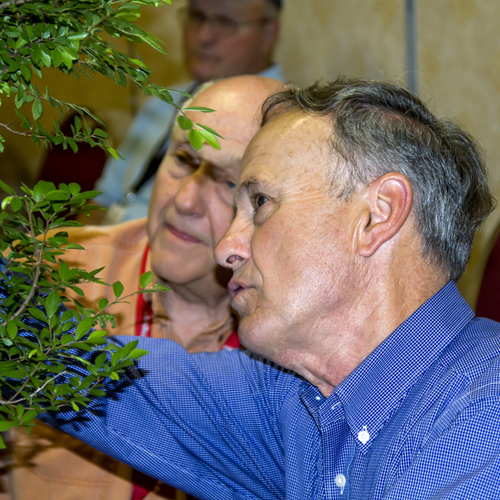 David DeGroot, Washington
Mr. DeGroot's fascination with bonsai began in 1969, when he happened upon a bonsai exhibit at the Mitchell Park Conservatory in Milwaukee, Wisconsin. The sight of the exotic little trees inspired him to dig some seedlings and attempt to grow them on his apartment window sill. Although those first would-be bonsai perished, his interest survived, and in 1972, after a move to New Orleans, his wife bought him his first "real" bonsai as a Christmas present. He was fortunate to fall in almost immediately with a group of young bonsai fanatics led by artist Vaughn Banting, who had just formed the Greater New Orleans Bonsai Society. Frequent visits by bonsai artists such as Chase Rosade, Yuji Yoshimura, Ben Oki and John Naka gave Dave a solid foundation in traditional bonsai aesthetics and approach. Later work with Weyerhaeuser Company tree physiologists and pathologists plus study in Japan provided intensive educational enhancement of his practical experience in both the horticultural and artistic aspects of bonsai. Mr. DeGroot was the first curator of Weyerhaeuser Company's Pacific Rim Bonsai Collection near Seattle. His duties there include tending the collection of more than 120 trees, managing the facility, and operating an educational program He is a popular teacher who travels frequently to present demonstrations, workshops and critiques. He has written dozens of articles that have been published in eight countries, and has lectured throughout the U.S. and in Brazil, Canada, England and Venezuela. He served as a director of the American Bonsai Society, which in 1995 awarded him a commendation for his contributions to the ABS Journal. Mr. DeGroot is the author of Basic Bonsai Design, now in its fifth printing and his newest book published in 2015, Principles of Bonsai Design.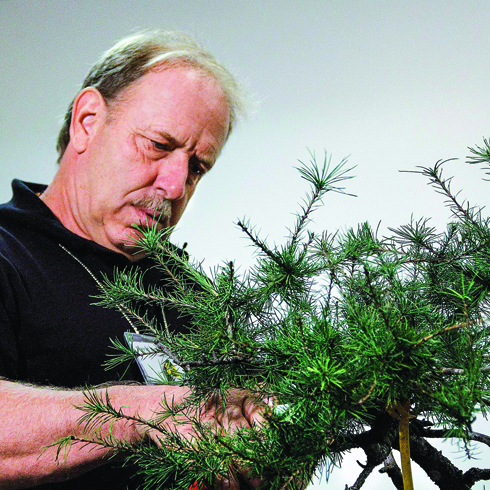 David Easterbrook, Canada (critique in French and English)
David Easterbrook is a professional bonsai artist from Montreal, Canada.  He studied under Isao Shinkai at Kido Bonsai Garden in Japan for one year then returned to Canada to start his own nursery.  He is well known for his collected larch from northern Canada and his many bonsai displayed around North America. Mr. Easterbrook has also authored two books on bonsai and bonsai care and techniques. He was curator of the Montreal Botanical Garden's bonsai and penjing collection from 1982 up to his recent retirement. He now continues to teach and lecture and is on the programs of the major bonsai shows, conventions, and exhibitions in the United States and Canada.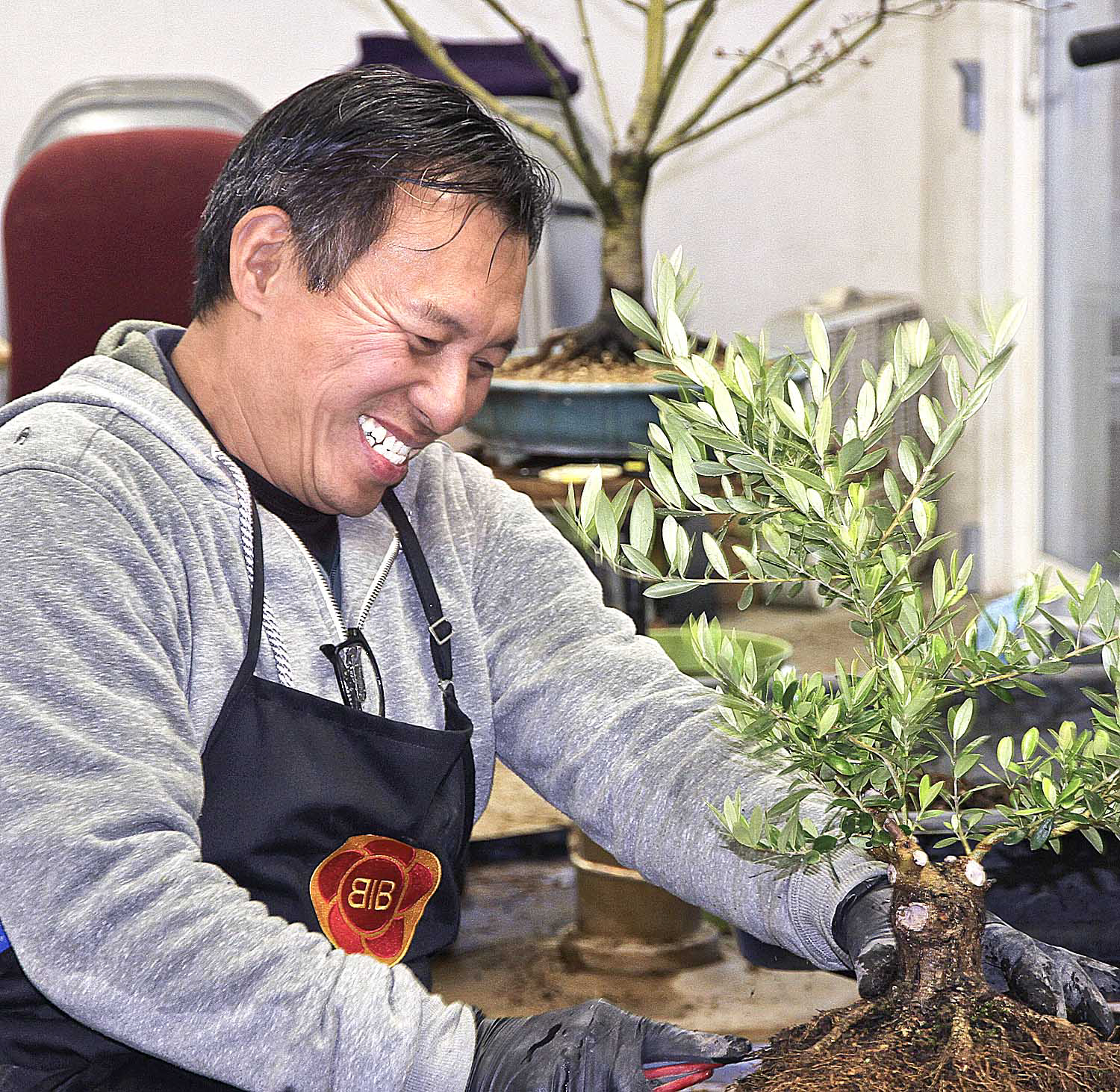 Boon Manakitivipart, California
Boon's start in bonsai was the result of a birthday gift: a small juniper bonsai. Before long, he joined the Bonsai Society of San Francisco, the club through which he took his first beginner class in the spring of 1989. Anxious to learn as much as possible about bonsai, Boon studied with as many teachers as he could find in California. Serious study began when he hosted professional bonsai artist Akio Kondo from Japan who stayed at his home for one year. In 1993, the Golden State Bonsai Federation awarded him a Teacher Development Scholarship. In 1995, he
received several informal offers to study bonsai in Japan. Months later he traveled to Japan where he studied bonsai for his first year as an apprentice with Yasuo Mitsuya. Later, studied with Kihachiro Kamiya, a bonsai artist with multiple national awards. He said once, "He showed me bonsai standards through his amazing talent and deep personal integrity." Mr. Manakitivipart returned repeatedly to Japan for prolonged periods of bonsai study until Mr. Kamiya's passing in 2004. In 1998, he founded and became the teacher of Bay Island Bonsai, and started his business, Bonsai Boon. Today he makes his living as a full-time bonsai artist in Northern California and around the United States. He styles client trees, lectures, puts on demonstrations, holds workshops, and finds show-quality bonsai for clients.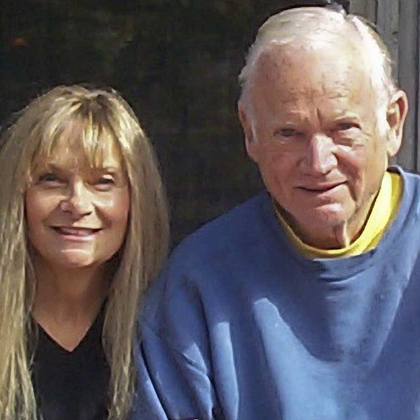 Larry and Nina Ragle, California
Larry Ragle started his first three bonsai in 1962 and they are still alive. He graduated from U. C. Berkeley – forensic science, and while attending was a Patrol/Investigator for the City of Berkeley.  He eventually retired as the Director of Forensic Sciences, Orange County Sheriff-Coroner.  He has continued to educate in and further his interest in the art of Bonsai.  He studied with John Naka beginning in 1966 and then with Harry Hirao in 1974.  He is a past president of Golden State Bonsai Federation,  California Bonsai Society and Kofu Bonsai Kai Larry and his wife Nina founded California Aiseki Kai, a Suiseki club. Mr. Ragle authored the text for Awakening the Soul, a book about the viewing stone collection at the National Bonsai and Penjing Museum. Mr. Ragle's wife, Nina, is a graduate of the University of Wisconsin in philosophy.  She has a special interest in suiseki formal display.  She is the editor of California Aiseki Kai's newsletter. She is also the author of Even Monkeys Fall Out of Trees, a collection of John Naka's Collection of Japanese Proverbs. Both Mr. & Mrs. Ragle studied bonsai display with Susumu Sudo in Japan and have displayed some of their masterpiece stones in the Nippon Suiseki Exhibition in Tokyo, Japan.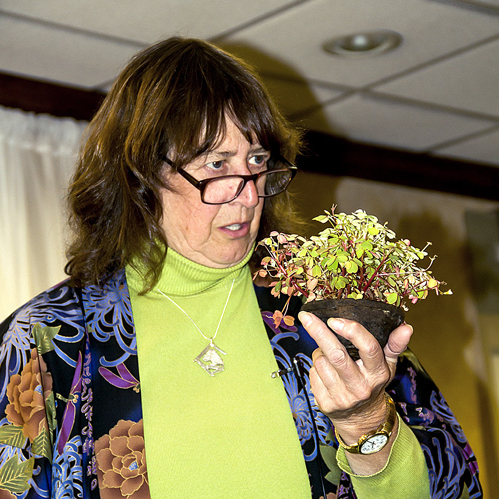 Kathy Shaner, California
Kathy Shaner began bonsai in 1983 in California. After ten years of study she managed to obtain a 5 year apprenticeship with Yasuo Mitsuya, a highly regarded bonsai artist in Japan. She is the first woman and non-Japanese citizen to be honored with certification by the Nippon Bonsai Kyodo Kumaii. Continuing to share the talents of her mentor, she is the curator and the artistic director for the Bonsai Garden at Lake Merritt and teacher of many students throughout the United States. Mrs. Shaner is internationally recognized for her excellence in the art of bonsai. Her students are taught to find the "Soul of the Tree" before beginning any major work on a tree. Her critiques are a highly regarded part of the program and have set a standard for other instructors. Kathy also maintains and designs private collections throughout the United States.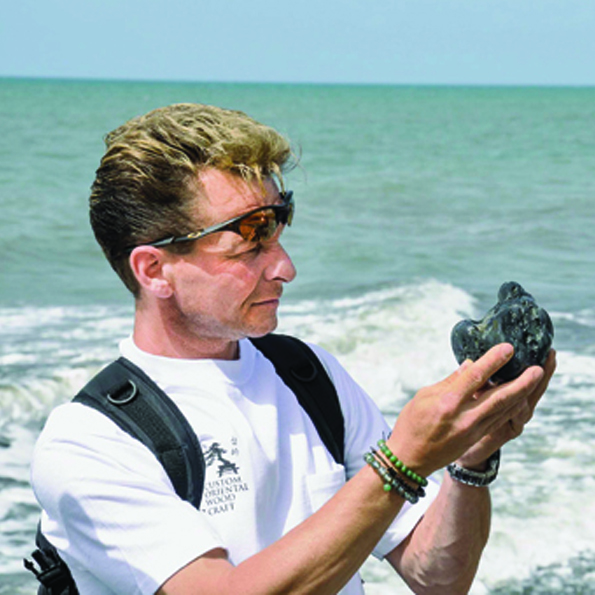 Sean Smith, Pennsylvania
Sean Smith lives in Marysville, Pennsylvania, where he owns and operates Custom Oriental Wood-craft. With a passion for bonsai and suiseki for over 20 years, and an extensive background in carpentry, he took the two, put them together and started his own business in 1994. He makes bonsai display tables, and carves daiza for renowned bonsai and suiseki enthusiasts all over the world. He was the only student of Koji Suzuki, master daiza carver in Japan. Mr. Smith has lectured on suiseki as well as bonsai in the United States and Europe, and is internationally known for his skills in bonsai and suiseki. He is a member of the Nippon Suiseki Association, European Suiseki, and the past president of the Susquehanna Bonsai Club in Harrisburg, Pennsylvania. He has also been a director of the National Bonsai Federation.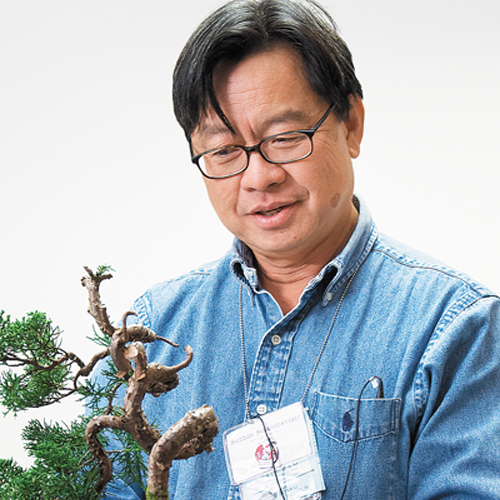 Suthin Sukosolvisit, Massachusetts
Suthin Sukosolvisit is one of the premier bonsai artists in the world. His bonsai are known for their proportion, refinement and fine detail. He has been practicing bonsai for over 45 years starting in Thailand. He and his wife, Dararat, operate the Royal Bonsai Garden, Inc. in Stoughton, Massachusetts, a full-service bonsai nursery where he also teaches. Suthin has one of the finest selections of finished bonsai on the East Coast displayed at his nursery. Being from Thailand, he has extensive experience with tropical bonsai and is mostly admired for his remarkable shohin bonsai tree designs. He also works extensively with Japanese maples, Japanese black pine and root over rock styles and is proficient with many other species. He lectures throughout the United States, and is known as an excellent instructor, always eager to share new information and techniques. He maintains many private bonsai collections.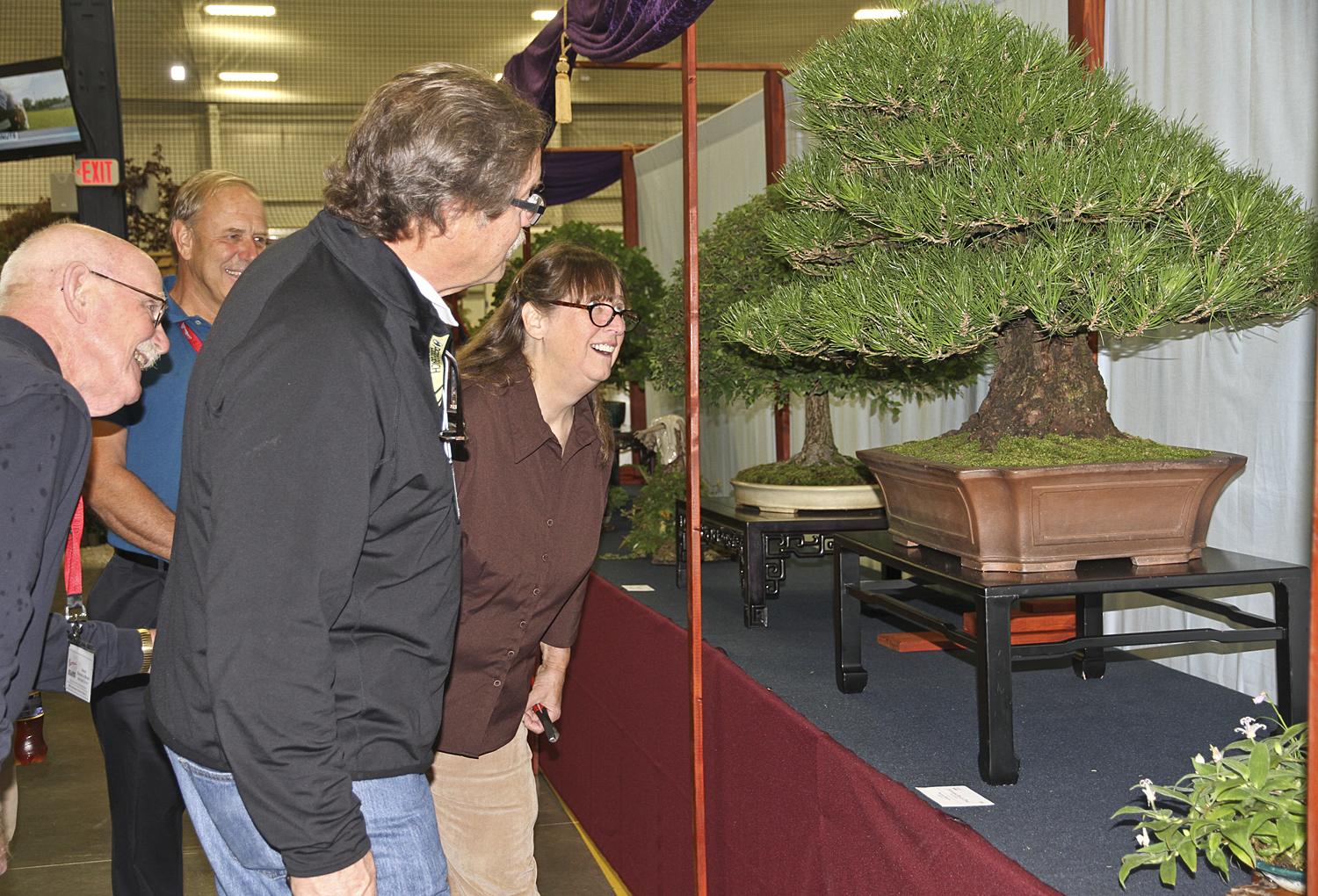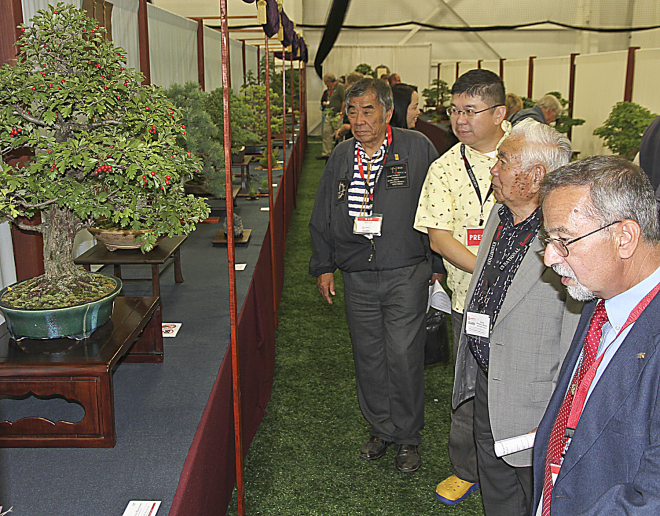 Purchase your tickets now.
All 18 critiques are FREE with paid admission.
Daily admission $20 | Weekend Pass $30 before September 1st